Wayne Nunes: The vocalist turned bass guitarist
From the tender age of eight United Kingdom-based musician Wayne Nunes was being paid for his musical talent as a vocalist and while today he is no longer a singer, music is still his chosen profession.
Moving from being a member of the Christ Church Choir to today being the bass guitarist for the band of Grammy award singer Billy Ocean is testimony to Wayne's musical talent.
Born in the UK, Wayne spent his formative years in Guyana and it was here he got his first taste of the musical world; he developed a love for it by accompanying his older brother, Horace, to choir practice.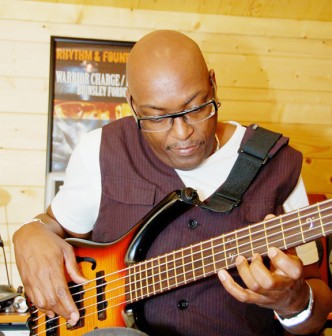 By the time he moved back to the UK in 1983 he was a grown man with a wife and child but most importantly he had already stamped his authority on the local musical scene as he had sung and played in many bands.
He struck gold when he moved the UK and was introduced to Alpine Grant, the brother of Eddy Grant. Alpine, at that time, had taken over Eddy's music studio in London as Eddy had already moved to Barbados.
Wayne, in a recent interview with The Scene from Sydney, Australia, where he is on tour with Billy Ocean, said that at one time he was resident bass player in the studio playing "on loads of records for different people that passed through from all over the world."
He has moved from that to being part of Billy Ocean's band for the past five years after the singer came out of retirement where he had been for about 15 years.
Revealing how he became part of the band, Wayne said that a keyboard player friend of his had moved to Grenada to work in Billy Ocean's studio and he used the opportunity to encourage him to start touring again.
"He got in touch with us and we put together a band mainly of people we have working with over the years. Lots of my work came a similar way; from people I've worked with through the years," Wayne told The Scene.
Wayne said he loves touring with Billy Ocean as he is a great person to work for and he travels to many beautiful places. But more importantly he now has had the opportunity to play at festivals alongside persons he grew up listening to.
First paid job
It was at the age of eight that young Wayne got his first paying job when he became a member of the  Christ Church Choir and while he joined up after accompanying his brother to practice, in the end, he became a permanent member while his brother moved on.
"It was my first paid job. I rehearsed three times a week sang at two services on Sundays and made extra pay from singing at weddings and funerals," Wayne told The Scene
And while he was a vocalist at the time, Wayne said it was his choir years that eventually influenced his move to become a bass guitarist. When one sang in the choir, he said, that person moved up the chorister pew according to height. The boys would be in front and they sang soprano and the men sang Alto/Tenor/ Bass in that order. So as Wayne moved up he sang in front of the different harmonies and "the bass was the thing I loved the most and I always aspired to be a bass singer when I was older in the choir." But his choir days ended when he was a 12-year-old attending the North Georgetown Secondary School. He revealed that lots of people had suddenly left the choir, because it had become a mixed choir and "it didn't go down to well with the men."
But being a lover of music Wayne continued on the musical path tagging along again with his brother Horace, who by then, was in the Queen's College band called QC Syncoms.
"And two of my three sisters were in relationships with musicians on the scene so the house was filled with music and most importantly to me great records," he said.
He told The Scene that his brother had a guitar in the house with some chords on a bit of paper that supposedly no one was allowed to touch. (Horace might still get upset at this admission) but when he was not at home Wayne utilized the guitar. But it was not just his solo practice on his brother's guitar that moved his musical talent along. One of his sisters, Karen, had a really good friend who played chords and she knew songs and fortunately for him she took time out to teach him.
"North Georgetown Secondary was where I really got into playing the
bass guitar," Wayne said explaining that there were two brothers, Carl and George Fraser, who had a band with no bass
player and he indicated an interest and got the part. It seems that luck followed Wayne, as the two brothers turned out to be the younger brothers of Terry Nelson who at the time owned the only recording studio in Guyana in his house at  Beterverwagting.
The trio got the opportunity to record Neshia Benjamin's hit "Sandrowta" at the studio. But then George Fraser unfortunately died in a drowning accident and the band ceased to exist. But Wayne said he continued to get encouragement from Maxie Gouveia, who encouraged him to continue practicing and playing. Wayne would even attend rehearsals in a band Maxie played in called Destiny.  Wayne did not get into that band. His first gig was with a band that rehearsed in Robb Street, which later became the Silhouettes.
He moved on from there and played with bands like Brass Mechanics and The Music Machine. He later returned to the Silhouettes and by that time the manager had sold his equipment to Neil Chan who ended moving with the equipment to play with Solo Sounds International.
"This was a turning point in my career in that for the first time it had become my main job," Wayne said adding that Neil made everyone professionals as he paid salaries better than they had at their day jobs. At that time Wayne was working as a purchasing clerk at Guyana National Engineering Corporation and had also done a previous stint at Cable & Wireless as a telegraph operator trainee, while doing gigs on the weekend with the other bands.
Everyday
Wayne said Neil made them work everyday and they practiced, composed and learned to read music to back calypsonians.
"I have never had to do a day job since," Wayne said, in the emailed interview.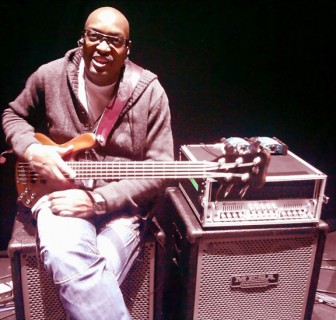 When he left Guyana with his wife Melanie King (who was a singer in Solo Sounds International) and young son he turned up in London being able to play but knew no one and nothing about the British music scene. Wayne said he auditioned many times for bands that sounded like they knew what they were doing but was disappointed when "I got there because of their mediocre level of musicianship also having family I wanted instant professional work and most of the bands were just starting out."
It was during his period of disappointment that his brother introduced him to Alpine Grant. While at the studio, Wayne said, he put together a band called NUNES which comprised him, his wife Melanie and his brother Horace. They did a single called "The Sun Is Gonna Get To Me", which he said got quite a bit of London airplay at the time and also in Guyana. They also recorded an album but it was never released.
During those years he also played on almost everything Rudy Grant recorded including the iconic "Mash in Guyana". Wayne also recorded, played and produced the Mighty Intruder's "Lillawatie" and "I'm Getting the Fever", which he said he later found out had been written by his Brass Mechanics band mate Bonny Alves.
Wayne hit the big time when got he got his first major tour playing with Eddy Grant, when he released "Gimme Hope Jo'anna". From this success, he got the opportunity to play in bands like The Pasadenas, MN8, James Brown Horns and even on a TV talent show called the 291 Show. He also played with the likes of African Head Charge Alton Ellis, Lucky D, George Nooks/Derek Morgan and many others. He then went on to play with an artiste called
Tricky and practically travelled the world and also did writing with him on his projects and by doing so played on stuff used in a few Hollywood films and TV shows. He also had the opportunity to co-write a song for the film Bad Company with Chris Rock and Anthony Hopkins. Wayne's work was not confined to writing and playing the guitar as he was also involved in quite a few theatre productions with the most recent being in July 2011 when he did The Wiz and even more successfully over the last few years he has been a co-musical director of the stage show The Harder They Come. Nunes has now re-married and has two sons from his first wife.
Source
http://www.stabroeknews.com/2012/the-scene/02/04/wayne-nunes-the-vocalist-turned-bass-guitarist/
 Accessed 16th May 2016